Liquid Rhythm and Liquid Rhythm Intro Updated to Version 1.3.3!
Ableton Push Integration Live in Liquid Rhythm Version 1.3.3
WaveDNA is excited to announce the latest update to Liquid Rhythm and Liquid Rhythm Intro. We have been leading up to this release for some time, testing the waters with the beta version of our favourite new feature, MIDI scripting support for the Ableton Push. In addition, version 1.3.3 features upgrades to the Liquid Rhythm interface, including the new Clip Selector for Liquid Rhythm integrated with Ableton Live.
To update your copy of Liquid Rhythm with the latest version, please click on the download link below that corresponds to your system. If you are new to Liquid Rhythm download a free trial here. More details of these exciting new feature updates in version 1.3.3 are listed in the release note below. Enjoy!
Note: To use the Max for Live Clips plugin in Ableton Live 9, update your Max to version 6.1.6 before installing Liquid Rhythm (the Max update must be installed first). 
What's new in Version 1.3.3?
Ableton Push Integration
The WaveDNA team have taken advantage of the Ableton Push's "User Mode", to make the integration of Liquid Rhythm within Ableton Live as a Max for Live device even easier.  By programming a fully functional MIDI script, you can now control Liquid Rhythm directly from your Push without ever having to touch the mouse!  Switch into User Mode to program your beats in Liquid Rhythm, and switch back to the regular Push script to take full control of Ableton Live.  It's the most fluid way to work and keeps your creative juices flowing!
Features of Ableton Push MIDI Script:
Click "User Mode" to access direct controls of Liquid Rhythm.
Draw in BeatForms and step sequence patterns directly from Push's 64 drum pads.
Control groove, swing, and velocity levels using Push's 8 knobs.
Full multi menu display provides visual feedback of the editable parameters.
Customizable menu that allows the user to alter the arrangement of controls.
Watch the YouTube Video below for a full overview of using Ableton Push with Liquid Rhythm:
Clip Selector
Clips recently visited in Ableton Live 9 are tracked.
Instant editing of the clip in Liquid Rhythm.
Saves a list of clips for instant recall.
Multi-tasking feature locks to a chosen clip in Live; Liquid Rhythm will focus on the clip with enabling the user to edit additional clips in Live. I.e. A user can edit a drum rack with Liquid Rhythm while simultaneously dropping funky grooves in the bassline.
Note: Clip Selector is a feature specifically for Liquid Rhythm when integrated with Ableton Live.  You need Max for Live to run Liquid Rhythm as a Max for Live Device.
Shown below is the Clip Selector for Liquid Rhythm.  Notice how it translates all clip information from Ableton Live into Liquid Rhythm.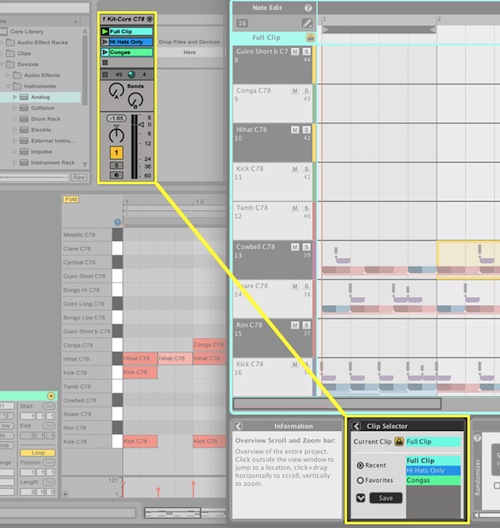 Features
Ableton Push Scripting for Live integration!  Ready to use within Ableton 9 Max for Live mode of Liquid Rhythm.
Liquid Rhythm's clip mode has an in-built clip selector.  Allows the user to lock a certain clip for Liquid Rhythm editing, and keeps tracks of the recent clips that have been visited before for quick recall.
Improvements
In clip mode, the default names for clips used to be untitled if the clip had no name.  To help find the clip, they are now given the name of the track index and clip index.
Dragging a BeatForm from the BeatForm Palette will not show the entire BeatForm and the velocities it will have when dropped. Velocities automatically update based on the Accent Modifier settings.
Dragging a BarForm from the BeatBuilder will now show the BarForm as it is dragged.
Bug Fixes
Hitting the 'x' or red circle on the application title bar for Liquid Rhythm Plugin mode would immediately exit, and leave the plugin on the DAW Host in a bad state.  Now hitting the exit button will not exit, and instead direct you to close the Plugin in the HOST, to avoid the corruption.
Beta Features: Scale Chooser
Choose to filter MIDI notes by scale. There are 15 different scales available.
This allows Liquid Rhythm to be used more effectively on melodic instruments.
Allows the interface to constrain the note lanes selected based on the scale chosen.
Root notes are highlighted by a green line in the note lane header.
Note: This feature is currently only available in Max for Live Liquid Clips mode. 
Known Issues
Liquid Rhythm Max for Live Clip mode: Moving MIDI tracks around in live while Liquid Rhythm is open may cause Live to crash.
Liquid Rhythm Max for Live Clip mode: Liquid Rhythm doesn't handle very large MIDI clips yet.
Liquid Rhythm Max for Live Clip mode: Does not support user-craeted Drum Racks that have multiple samples loaded into a single drum pad (i.e. "Multis".
Overdub recording mode is glitchy.
Real-time MIDI recording has some lag.
Pressing Undo during MIDI record can cause Liquid Rhythm to crash.
MIDI scripting for some devices (QuNeo, Base) is limited to Liquid Rhythm Standalone mode. We are currently working to add support for other modes.
Liquid Rhythm may be unresponsive when computer goes to sleep and wakes.
When you select a region in the arranger, use the groove sliders, and then try to drag a BeatForm from the BeatForm Palette, this will result in an error.
In Clips mode, when you add molecules via the BeatBuilder, the BeatForm Sequencer doesn't update.
Note, March 27th, 2014:
We originally posted the Kit Editor as available in v1.3.3. The Kit Editor will be available in version 1.3.4, which will be released in mid to late April. We apologize for the delay.
Information About the Kit Editor:
You will be able to create and save your own personalized kits within Liquid Rhythm.
Drag and drop prepackaged samples or import your own to create kits.
Name and rename your kits, add or remove the sounds within a kit, and save them in Liquid Rhythm's Library.
Note: Kits can only be created in Standalone mode.  When used with Ableton Live, your kits will be built using the Drum Rack and saved in Ableton Live's Browser.