WaveDNA Interviews Marcus Schmahl – a.k.a. 2pole, Apnoea, Broombeck, and Marc Narrow
"I also have Ableton Live connected via Max for Live to WaveDNAs
Liquid Music + Liquid Music as this is my preferred way of creating beats, grooves, special melodies and chord progressions for my productions."
Marcus Schmahl is a true musician who has been working as a composer, sound designer and producer since 1992. He is the driving force behind music projects of different genres such as hip hop, downbeat, jazz, lounge, house, techno, electronica, electro and drum'n'bass and the lead behind the alias 2pole, Apnoea, Broombeck, Marc Narrow, and many more.  He has concentrated on Electronic Dance Music and released his successful tracks on influential labels like Suara, Mobilee, Tronic, Mistakes Music, Stripped Down, Opossum Rec., Elektrolux, and Terminal M, to name a few.
WaveDNA sat down with Marcus to discuss his use of Liquid Rhythm and Liquid Music, and welcome him to our official artist roster.
1) When did your projects in electronic music start to become a reality for you?
Electronic music was all around me during my childhood and listened to a lot of hip hop, early house and techno. It influenced me to look into music production. During the early nineties my main club was the legendary "Omen" in Frankfurt (Germany), where Sven Vath began his career. I started to work within the music business in 1993 doing some commercial ads for companies (like Commodore (Amiga 500)), but never lost my focus doing my own musical projects. First I had the chance to release some albums on Elektrolux (very famous Frankfurt based electronica/chill out/dub label) as Rauschfaktor, Guardner and Professor Kazkaz (a collaboration with Gregor Tresher). This pushed me more into the underground music scene and I tried to produce more club orientated tracks. With this new sound, a new persona was created and Broombeck was born. My first releases "The Clapper" and "Mono Turn" were my two top selling EPs which were at Beatport 10 for more than 6 weeks. Everyone played my tracks, even progressive house and house DJs – even famous producer & DJ Solomun officially remixed "Mono Turn". In this time I had the chance to play live at legendary Berghain (Berlin, Germany) and toured a lot with Monika Kruse. It was during those first days with my production Partner Mark Ullrich (we formed two new projects named 2pole and Apnoea) bonding over music in 2018 that led to our "2pole – Alone EP". The title track from that EP spent over three months at the number one spot on Beatport's top 100 chart, and racked up over 1,000,000 plays on the Suara YouTube channel and about 2 million play on Spotify. "Alone" features original vocals from powerful American downbeat icon and slam poet Ursula Rucker. As Marc Narrow I tried to go a different and more "commercial/pop music" way. My first single ("Geh Nicht Weg") was a huge hit record in Germany and I received my first golden record.
2) Did you ever think you would get to where you are today with your aliases?
I've come to know the music business for about 30 years now and the one thing I learned was to never expect anything with your art. You judge art in a subjective way and feel music in a different manner as other people. This is why you can't look into the future. 2pole, Apnoea and Broombeck are well known projects in the underground music scene, but I hope to make them bigger in future with new albums, a new live tour, and as a DJ playing for music lovers in clubs!
3) When did you start building your studio?
I started building my studio in the same space I have been working in since 1997, but it is a never ending story! If you follow me online on Facebook or Instagram, you will see that I rebuild my studio every week, and sometimes every day. I mainly do this to get a better workflow with my equipment. This is very essential for my work as a musician, because it moves different hardware pieces into my main focus every time I change the places of some hardware. New arrangements in hardware means new motivation, new possibilities, new ways of combining sounds and gear for me. The same is with trying new software on my computer. On top of that my second job as editor-in-chief of the magazine GEARNEWS opened a new world of networking. That means: testing new hardware and software every week, discovering new instruments and possibilities to make music. I love my job!
4) How much gear do you have?
Far too much!! That's why I can't say a number. I'm the biggest nerd when it comes to gear – like any other DJ or producer – so I am always buying a lot and I can't sell anything, because every piece in my studio is part of my family 😀 But with like I had mentioned before, I am constantly rebuilding my studio and re-arranging things. I'm totally addicted to new gear – I think it's called G.A.S. (gear acquisition syndrome).
5) What is your go-to piece of hardware and software?
At the moment I really love hardware synthesizers, which sound different and are special, like Modor NF-1, Tasty Chips Electronics GR-1, Waldorf Quantum and Arturia Polybrute. But I still and always will use my modded Moog Voyager, a Roland TR-909, Oberheim OB-6, Isla Instruments S2400, Behringer 2600 and a lot of nice effect pedals (otomachines, Elektron, UA, Strymon, Meris, etc.). On the software side my main DAW is Ableton Live 11 with Push 2. I really like the way you can jam with hardware combined with software stuff or real instruments/recordings without limitations. They make integration of both of these elements very easy and simple. I also have Ableton connected via max4live to WaveDNAs Liquid Rhythm & Liquid Music as this is my preferred way of creating beats, grooves, special melodies and chord progressions for my productions. I like to have "intelligent" software, that isn't very technical so you have more time to be creative.
6) When did you hear about Liquid Rhythm / Liquid Music?
I read about Liquid Rhythm a few years ago on one of the various blogs I follow. It looked amazing and I love playing with beats, grooves and rhythms, so I thought I would buy the full version and play around with it and I have to say, I am hooked! The possibility of controlling Liquid Rhythm with a hardware controller is a great addition to the software and makes it very simple to use in a live setting.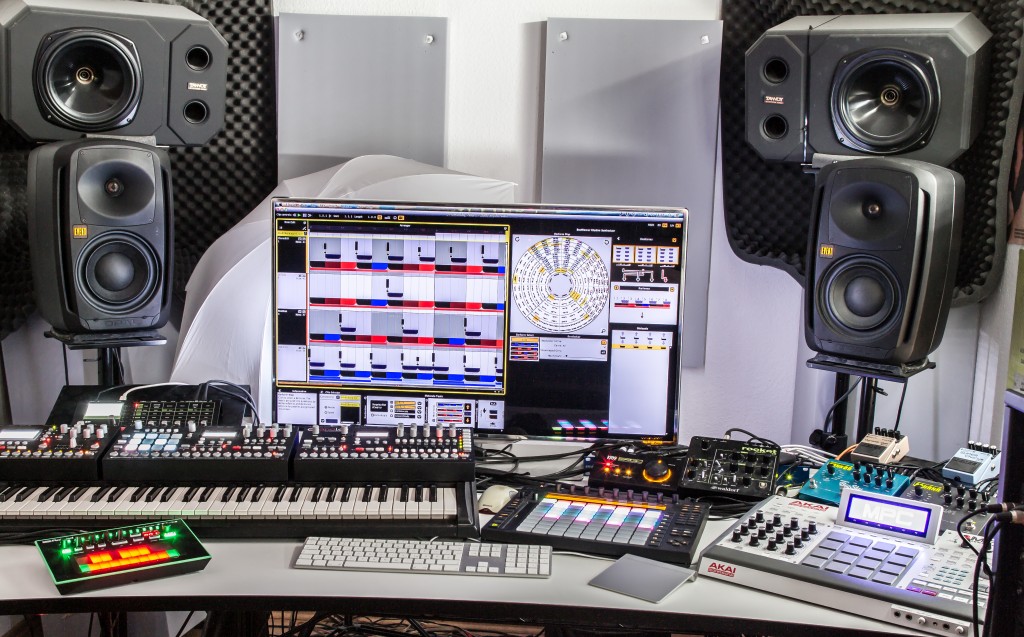 7) What got you most excited about Liquid Rhythm?
It's great to see how an intelligent software algorithm can add different grooves to different drum slots of your drum rack within Ableton Live, which sounds absolutely great in a combination of all drum sounds, especially with my analog machines. You have a huge variety of parameters, which you can tweak to build up grooves for any genre, without losing the overall groove. 
8) How do you use Liquid Rhythm with your mix of hardware and software? Do you use it to program any external instruments?
I have created a lot of drum rack presets for my daily work in my studio with Ableton Live. One for my Roland TR-909, one for Vermona DRM1 MKIV, and one for NI Maschine. These drum racks are automatically connected to Liquid Rhythm and I can drag'n'drop grooves to the different drum rack pads. Setting it up this way allows me to build drum grooves and whole beats without knowing which machine is playing the sound. It's a nice way to combine hardware with software.
9) How has it changed your workflow?
It hasn't changed my workflow at all! For me it's a huge addition to get more into grooves, and to add some randomness to my beats. It allows me to generate more variations and to be more creative in building new songs! The only workflow change is, that I now use Liquid Rhythm to generate my beats whether I am using software or hardware drum synths. Same goes for melodies, which, if I have a hang, I can "ask" Liquid Music for new inspirations.
https://linktr.ee/marcusschmahl
https://www.instagram.com/marcus.schmahl
https://www.facebook.com/marcus.schmahl/