WaveDNA releases Liquid Music v1.7.0
Liquid Music updated to version 1.7.0
Toronto, Canada – Nov 28th, 2019 – WaveDNA is proud to announce Liquid Music version 1.7.0 which offers users a host of additional functionality related to clip management, through Project Clips and the Track Selector panel. These new features make for easier swapping out of musical ideas in your DAW, whether as new tracks or stacks of accompaniment instruments. Directing or orchestrating a full arrangement from within Liquid Music has never been easier than now.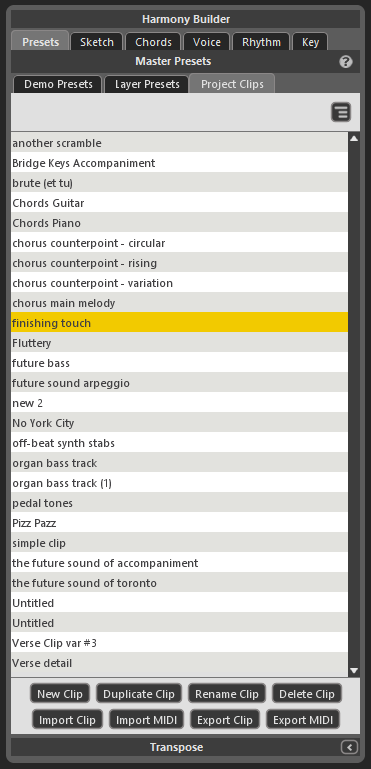 New: Project Clips
The clip management features are housed in a new Project Clips panel tab added to the Harmony Builder Master Presets tab. This tab provides users the ability to create and manage a list of virtual clips that can be quickly duplicated, edited, and selected for use in the host DAW. This list of virtual clips can be shared across multiple instances of Liquid Music (in VST / AU / AAX) sitting on different tracks in your DAW, or across multiple Ableton Live clips (in Max for Live AMXD). Clicking on an entry within this list will load that Project Clip into the Liquid Music Arranger while preserving what you were last working on in the previously-selected Project Clip. Any Project Clip in the list can be easily exported as a Liquid Music file (.WDXML) or as a MIDI file.
The Project Clips panel is especially useful for DAWs which only allow a single instance of Liquid Music VST / AU / AAX, as now that single plugin can be used to generate a list of multiple variations that can be selectively deployed in your DAW. Any clip that has been exported can now be re-edited in Liquid Music and re-exported without requiring importing back to Liquid Music. 
For DAWs that allow multiple instances of Liquid Music, this new functionality offers increased flexibility for swapping and adding new variations to tracks, or for trying out different combinations of accompaniments across a selection of instruments. 
New: Track Selector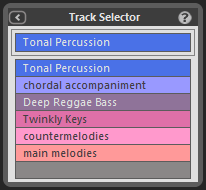 Another significant addition is the Track Selector in VST / AU / AAX that aids navigation between multiple instances directly from within Liquid Music's UI window. This panel can be viewed with the Molecule Tools open (beside the Help Panel on the left).
As Liquid Music VST / AU / AAX instances are added to tracks in your DAW, the Track Selector will be populated with entries for each Liquid Music instance. Restoring a previous DAW project will auto-populate the list of tracks with all Liquid Music instances in the project. Deleting a Liquid Music instance will automatically remove the corresponding entry from the Track Selector.
The Track Selector itself is rather simple and operates by double-clicking on an entry to switch instances. You can right-click on the currently-selected track to set its name or color.
Other Improvements in Liquid Music 1.7.0
 General Import MIDI workflow improvement for VST / AU / AAX: Importing MIDI now creates a new Project Clip while preserving any current content in the Arranger Canvas as a separate Project Clip. In previous versions of Liquid Music, content in the Arranger Canvas would be replaced by the imported MIDI and lost if not saved
 LM VST / AU / AAX: A bug where the UI would hang and require a force-quit when closing the host DAW has been fixed, and the UI window should now automatically close when you exit your DAW.  Similarly, if you delete all instances of LM from your DAW project the LM UI window will also automatically close.
 The Devices tab of the Preferences window now has a scrollbar if you have enough devices that the Devices list would have previously caused the Preferences window to expand (that is, more than 22)
 Switching the Harmony Builder to the "Key" Layer tab no longer causes the Harmony Builder to resize itself and grow.
 Changed Channel Header Piano label to read "Keyboard"
 Updated aesthetic of JColorChooser (previously used for Sketch color setting, now also used to set Track Color in VST / AU / AAX) to fit the theme
 LM Harmony Tools: General efficiency improvement with mass overhaul of update notification structure.
 The AMXD-specific "Import Clip" disable-arranger-overlay was sometimes incorrectly being triggered in the VST / AU / AAX plugins, due to shared codepaths in the different plugin versions of the software. One case that was reported which triggered this issue was when plugin instances had many notes of very short durations, and the Liquid Music UI window was closed and reopened; upon reopening the UI window, the "Import Clip" overlay from the AMXD was incorrectly showing; this is now fixed.
 Performance improvement when switching Tracks that the Liquid Music UI is focused on, as a result of changes in the shared codepath for loading tracks / clips, as described above. 
 Usability Improvement for Ableton Live and the Liquid Music AMXD: some drum racks in Ableton 10.1 are not being automatically classified as drum racks by Liquid Music, and are instead being loaded into the Harmony Tools perspective, which then brings up the "Import Clip" disable-arranger-overlay. There was no easy way for Users to switch to the Rhythm Tools, as when the overlay is up, the UI and all application menu options become disabled, so Users would have to press "Import Clip", and then "Bypass", and then go to the View Menu and select "Switch To Rhythm Tools", for this clip. Instead, the overlay was changed to include a "Switch To Rhythm Tools" button.
 Installation / configuration improvements for Ableton Live 10.1: Ableton changed the application ID between Live 10 and Live 10.1, meaning that when the Liquid Music installer ran, Live 10.1 was not being detected, so if Live 10.1 was the only version of Live on the computer at the time of installation, the AMXDs would not be installed in the appropriate location in the Ableton User Library.
Known Issues & Limitations
WaveDNA's Liquid Music and Liquid Rhythm are being tested with macOS Catalina 10.15 across various DAWs; this domain is still being mapped, and in the interim, we cannot guarantee compatibility until systematic tests have been performed.
Export to File (MIDI or Clip) doesn't prompt you about overwriting if a file with that name exists, it just overwrites the file
In AMXD, duplicating a Live Clip in Ableton will result in a new "Untitled" entry for the Project Clips rather than selecting the Project Clip from the source of the duplicate
In VST / AU / AAX, attempting to Import a blank MIDI file will fail, not initially, but after you select a Key and then click "Import" — this should raise a single Wave sadface error dialog but should recover gracefully from here, it instead used to be a catastrophic crash requiring LM to exit, should be better now though want to look at further fix in the future (this is also a very corner case, why would you import a blank?)