WaveDNA visits The Harris Institute for the Arts
The Harris Institute for the Arts Hosted Members of WaveDNA
Time flies when you're having fun. But then you look back – ahhh, nostalgia. A small team from WaveDNA recently visited Harris Institute For the Arts, one of Toronto's leading schools specializing in audio production and music industry education. We were invited by drummer, producer, and teacher Deryck Roche to give a few presentations to his students during his Contemporary Audio Production class in the MIDI lab at the Harris Institute Institute for the Arts. After hooking up our laptops to the projector, our team presented a two-part demonstration of Liquid Rhythm. Part one was an overview of the underlying music theory that interprets and visualizes MIDI in a new and innovative way. It's what WaveDNA calls "The Music Molecule."

The Music Molecule: WaveDNA's interpretation of MIDI
Part two was a demonstration of Liquid Rhythm itself.  Specifically, how the power of the Music Molecule is leveraged by Liquid Rhythm's robust MIDI editing tools.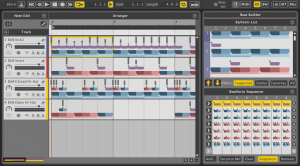 Music Molecules in Action
Often, when we do such presentations, we use Ableton Live 9 Suite as the host application that Liquid Rhythm plugs into.  We do this so that we can showcase the MaxForLive bridging technology that automatically transfers MIDI data from Liquid Rhythm into Live's MIDI clips.  This is a powerful way to demonstrate Liquid Rhythm's capabilities – and the meaning behind the Music Molecule – because the relationship between Liquid Rhythm's MIDI visualization and the piano roll editor we are all accustomed to can be seen.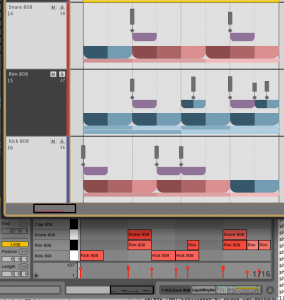 MIDI re-imagined: Liquid Rhythm's Music Molecules and Ableton Live 9's piano roll editor
After our presentations, we had an engaging question and answer period by the students. We're grateful for the opportunity to chat with Toronto's own audio engineering students about music production and beat creation with Liquid Rhythm.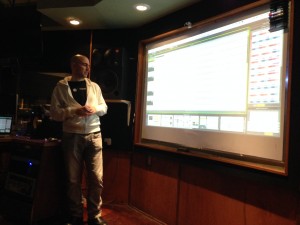 P.S. The reason for the first line of this article? Myself, Dave, and Allison – are Harris Institute alumni! 
Author: Saro Migirdicyan, UX Manager
About Harris Institute: Located in Toronto, Canada, Harris Institute for the Arts has been a leader in audio and music industry education since 1989. The college's 120 students are taught by a 68 member award winning faculty, and its graduates are in leading positions throughout the music industry.