WaveDNA is headed to The NAMM Show
The NAMM Show Jan. 23-26, 2014
For the NAMM Show 2014 WaveDNA is excited to announce a major update to both the full and introductory versions of Liquid Rhythm – powerful MIDI sequencing and beat generation software. Boasting a completely redesigned user interface and an array of new features, Liquid Rhythm v1.3 offers musicians, producers, and DJs a range of tools to create and experiment with their drum and percussion tracks. Liquid Rhythm's unique visualization of MIDI and innovative suggestion tools streamline workflow for the ultimate efficiency in beat production.

With the help of DJ Shine (AKA Jason Spanu), an Ableton Certified Trainer whose credits include Frank Ocean, Nelly Furtado and Drake, WaveDNA will show the NAMM community why Liquid Rhythm has been referred to as "the future of rhythm programming" and "the most innovative and cool rhythmic generator" by AskAudioMag.com.
---
Liquid Rhythm v1.3 New Features!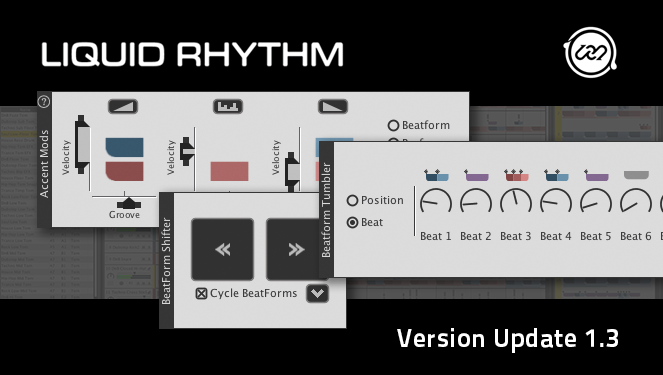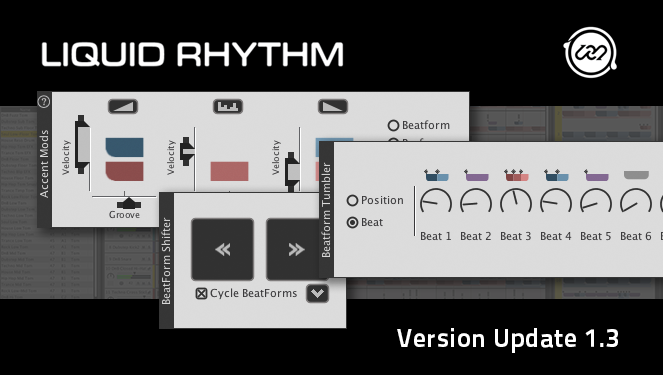 # 1: MIDI Scripting for Push
With Ableton's Push, you will be able to drive Liquid Rhythm without using the mouse and keyboard.  This workflow also lets you seamlessly switch between Ableton Live 9 and Liquid Rhythm. The result is very powerful and a lot of fun for both production and live performance. The WaveDNA team will be providing an early viewing of Liquid Rhythm using Push with Live 9 + Max for Live Integration at NAMM 2014.
# 2: The BeatForm Shifter
The BeatForm Shifter is a tool designed to shift note sequences left and right. This lets you quickly try subtle new variations. In addition, all notes that land on the end of a bar will spin, or loop back, to the beginning of the bar. The results are awesome when applied to multiple regions at a time.
# 3: The BeatForm Tumbler
The BeatForm Tumbler is designed to let you complexify or simplify a beat in real time with the turn of a knob. Select BeatForms in the BeatForm Palette to customize what can be dialed into the selected region(s), based on either color codes or beat locations.
# 4: Velocity Sliders with Velocity Shaper Technology
These are designed to instantly apply increasing and decreasing velocity shapes—or envelopes—to the notes in each BeatForm. Imagine being able to create snare rolls or shuffling hi-hat grooves that get louder and softer gradually across every other beat with a couple of clicks. Customize the dynamics or humanize your patterns with ease.
---
New SmithsonMartin's Emulator Elite + Liquid Rhythm Bundle
WaveDNA is thrilled to be partnering with SmithsonMartin, the world's leader in multi-touch control applications for music, recording, professional lighting, and performance art. The resulting bundle features Liquid Rhythm v1.3 and the Emulator Elite, the world's first ever multi-touch DJ software and hardware product. Together, they form a new unprecedented standard for live composition and performance.
The Emulator system features a 43" see-through two-way display that allows people to watch the performance on both sides of the screen, connecting and engaging the audience with the performer.  It's the perfect platform for showcasing Liquid Rhythm's exotic and colourful music visualization system.