Liquid Rhythm Introduces Embedded Videos to Help Users Create On the Go
Embedded Videos Add to Liquid Rhythm's Revamped In-Software Help System
Music software and hardware companies are trending toward products releases with the on-the-go musician in mind. We are recognizing that artists do not want to be chained to the desk because they have both a need and desire to create music anywhere. As a musician, you aren't necessarily able to control where creativity or a new idea emerges; it may be on the way to work, out at the park, or when waiting for a friend in their lobby, who knows? It isn't limited to the studio desk and chair. We too recognize that you may not have access to the Internet where you are, and you need to remember how to use a part of Liquid Rhythm. We're hoping our new embedded videos can help.
We have been working to improve our help system to include embedded videos on each of our panels, so that for any feature you want to use, you can quickly learn what it is for, and how to use it. Since you are on the go, we decided to package these help videos with Liquid Rhythm so you can watch them anywhere. Just look at the right corner of the panel, and you will a little (i) icon, which can be clicked to bring up an embedded video related to the feature you're looking for help with. These embedded videos are dedicated to quickly explaining how to use the features and components in Liquid Rhythm.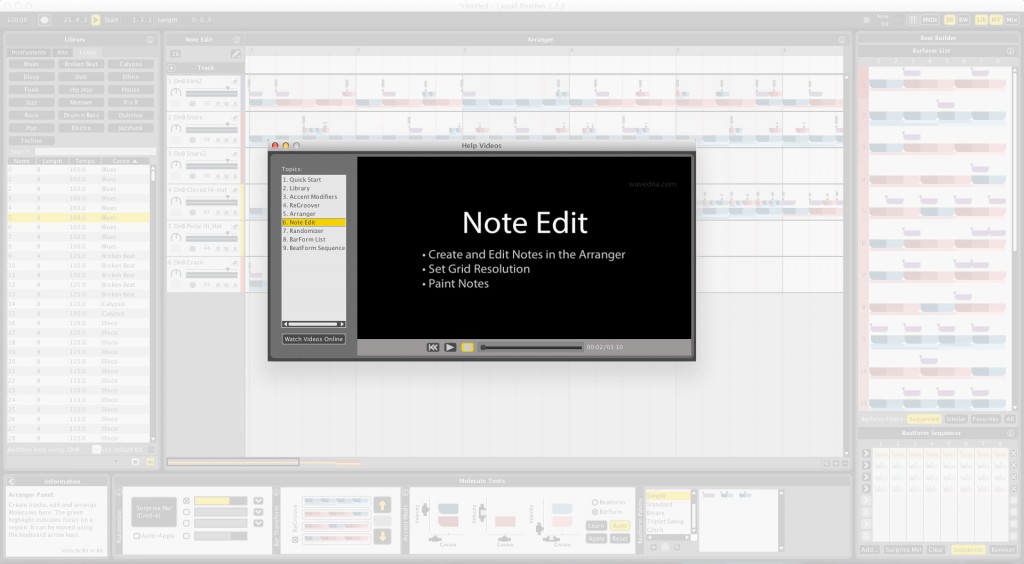 To save hard disk space, the embedded videos are highly compressed and designed to be as short and concise as possible. The goal is to get you up and running as soon as possible. All of the embedded videos created are also available online in HD on YouTube or through our video page.
Currently, not every panel has a video yet, but we are going to be striving to create and release them as soon as we can. To help us improve the quality and usefulness, we are always looking for artist feedback. We can only get better with your help. Any time you find a video lacking or unclear please let us know, this will help us when we enhance or add additional videos.
Author – Adil Sardar, Lead Developer