Inspiring Artists Series: Nick Trass Video + Interview
As part of our Inspiring Artist series, we caught up with Nick Trass, a Pro bass player from Australia.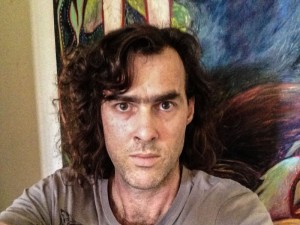 Who are you? and why are you on this planet?
My name is Nick Trass and I've been a bass player for almost 30 years, but I'm now focusing more on producing electronic music all within the box. My real aim is to use the full scope of the digital environment to create music that is both realistic and experimental.
How did you get started into music?
I have always found music energizing and inspiring, but it was seeing friends learning guitar as a teenager that actually got me into playing. I can play a lot of different instruments, but bass is still my preferred instrument. Everything relates to the bass part in my eyes; even melodies are just bass lines to me.
Were you in any bands?
I've played in a lot of different bands across the years, playing originals and covers. Creating your own music is always a great experience and always rewarding. As a player, I always treated everything like it was an original anyway, always staying creative. I believe that playing an instrument with other people makes a huge difference to your own personal understanding of music and your own unique relationship to it, which helps a lot when creating in the box on your own.
What type music do you play?
These days I'm mainly into Electronic Bass Music, but I try not to focus on a genre when creating music. The music you listen to is always going to have some influence on the music you create, even if it isn't obvious. So I definitely go for an electronic, bass heavy sound, but I'm always searching for new sounds and ideas.
Music is everything to me! It's a magical medium that can energize you, relax you or just make you feel good. – Nick Trass
Has it changed throughout the years?
I prefer to think of it as a constantly developing thing. All the music and styles I have  ever liked are an influence in the foundation of my sound, but I'm constantly drawn towards new possibilities with every new song I hear. I think technology is definitely a big factor too, allowing access to tools that were in the past only for the select few. The software available these days gives you the ability achieve everything you want, as long as you are willing to put the time into serious learning and then applying it. It's all a journey and there is always stuff to learn if you want to get better at what you do.
What inspires you to make music?
I'm constantly inspired just by listening to music, but I also find discovering new production and sound design techniques enhances my creativity. I've spent many years learning music theory and techniques for bass, which definitely gives me a solid foundation to experiment and explore.
What artists or bands inspire you?
Anything that comes out of the Electronic Bass Music scene tends to get me excited, but I still like a wide spectrum of styles and sounds, both old and new, popular and alternative. I can quite easily go from Regina Spektor to Weather Report to Nero, but it's always full albums, not just song to song.
Liquid Rhythm is the best discovery I've made so far. – Nick Trass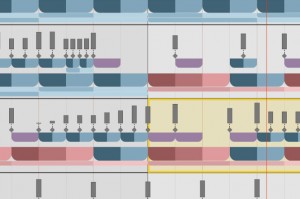 What is your current setup?
A Mac, the Tracktion DAW, an Akai EIE Pro interface, a microKORG, an iPad and a selection of plugins. I do use a lot of different soft synths, but I find limiting myself to just a few things tends to get the best results. It's better to master a few select pieces of software, than scratch the surface of many. Of course Liquid Rhythm has become an essential piece of the puzzle for my drum parts.
Can you take me through your creation process?
I tend to either start by creating synth patches then writing melodies that work with the sound, or just use a preset sound to create a melody then go back and develop the sound. I mostly use a basic kick pattern or a loop to write to, then come back and write the drums to fit with the groove of the melodic parts. It's good to just explore and see what happens though, so the ideas remain fresh. I do find myself using starting with different things just to explore something new.
Is there a specific feature in Liquid Rhythm that you enjoy using the most? How has it affected your workflow?
Liquid Rhythm is the best discovery I've made so far. I've always felt like the drum parts were the most time consuming to create, so it's incredible to find software that has every rhythm right there in front of you and is so easy to create with. I actually enjoy creating complex patterns now because the results come quickly. So now I can start my writing with a good groove and still come back for fine tuning. I particularly like using the accent modifiers to shift beats either slightly before the beat or slightly after, to get a more realistic result.
Have you used a lot of other drum software? Does anything stand out to you about Liquid Rhythm?
I have tried a lot of different drum plugins, but they are all a real pain to use quickly. I still use some of them, like iDrum or other samplers, then use the MIDI track I create in Liquid Rhythm to trigger the plugin. But to tell the truth, I'm finding that I use the other plugins less and less. Liquid Rhythm seems to excel in every area, from loading different sounds to creating intricate glitch type rhythms, then easily bouncing the results to audio for extra processing.
Why is music so important to you in your life, what does music do for you?
Music is everything to me! It's a magical medium that can energize you, relax you or just make you feel good. Music is always playing in my head or I'm at least thinking about it. I can't imagine a life without music.
For more of Nick's videos visit his Youtube Channel.
Author: Allison Janzen. Application Specialist / Ultimate Music Nerd