DJ Tech Tools for suggested articles lists WaveDNA
DJ Tech Tools. Boost WaveDNA with a vote!
Click here to vote for us on DJ Tech Tools.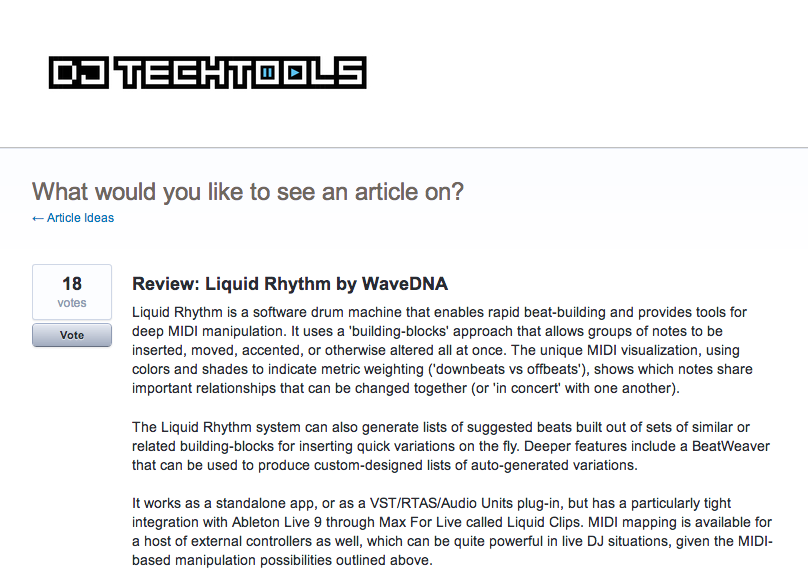 Here is the article content:
Review: Liquid Rhythm by WaveDNA
Liquid Rhythm is a software drum machine that enables rapid beat-building and provides tools for deep MIDI manipulation. It uses a 'building-blocks' approach that allows groups of notes to be inserted, moved, accented, or otherwise altered all at once. The unique MIDI visualization, using colors and shades to indicate metric weighting ('downbeats vs offbeats'), shows which notes share important relationships that can be changed together (or 'in concert' with one another).
The Liquid Rhythm system can also generate lists of suggested beats built out of sets of similar or related building-blocks for inserting quick variations on the fly. Deeper features include a BeatWeaver that can be used to produce custom-designed lists of auto-generated variations.
It works as a standalone app, or as a VST/RTAS/Audio Units plug-in, but has a particularly tight integration with Ableton Live 9 through Max For Live called Liquid Clips. MIDI mapping is available for a host of external controllers as well, which can be quite powerful in live DJ situations, given the MIDI-based manipulation possibilities outlined above.
The team at WaveDNA would sincerely love it if the fine folks at DJ Tech Tools would check it out and provide some feedback. If interested, please let us know at info@wavedna.com and we'll provide some NFRs for review.
For more info:
http://www.wavedna.com
Integrated with Ableton Live as Liquid Clips:
http://www.youtube.com/watch?v=3IgV6ss6fyE
Or to see it on a big touchscreen in a live jam:
http://www.youtube.com/watch?v=BNwlN_sMZGQ
We appreciate any consideration and support!
Click here to vote for us on DJ Tech Tools.