Liquid Rhythm Plugin Update Dialog Box
When you upgrade to a newer version of Liquid Rhythm on Steam you may run into this dialog box: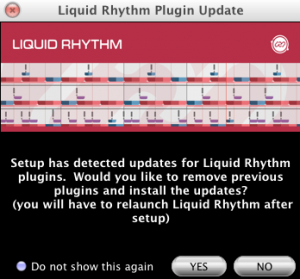 Simply click Yes to install the new plugins. If for some reason you click no, you can simply go to the help menu bar within Liquid Rhythm and click on: " Install Plugins on Next Launch" (see photo below). Relaunch Liquid Rhythm and everything should be up to date.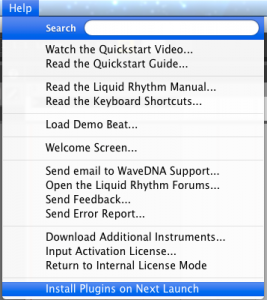 Another reason why this Plugin dialog box would occur is if you are on a Mac system. If you install only the LiquidRhythm.App and not the plugins, upon the startup of Standalone you will get this dialog box (see photo below). The reason why you receive this box is because you updated the base installer/software but not the plugins itself. The base software and plugins must use the same version number.
You will get a dialog box that says: "Setup has detected updates for Liquid Rhythm plugins. Would you like to remove previous plugins and install the updates? (you will have to relaunch Liquid Rhythm after setup)"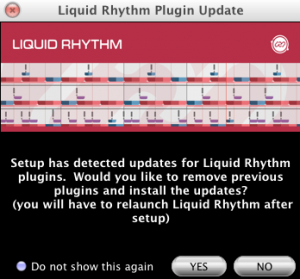 Similarly, if you do not install the plugins and launch the VST, AU or RTAS plugin, you will receive the following dialog box (see photo below): "Setup has detected updates for the plugins. Please run the Standalone Application to update these plugins." Simply quit your DAW and launch Liquid Rhythm Standalone to install the plugins.