Liquid Rhythm Tutorial on MacProVideo
MacProVideo has just released almost three hours of Liquid Rhythm tutorials by audio wizard G.W. Childs. Don't worry, Windows users, the tutorials can be equally useful for you. Claiming "this is a beast of a piece of software that, once tamed, will forever reward you with inspiration and amazing tracks", G.W. walks you through over 40 tutorials that show you exactly how to tame this beast and reap the musically explosive rewards.
G.W. Childs began in video editing for the Department of Defense and has worked for major companies like Lucasfilm, Cakewalk, and MTV. As an author, musician, and remix artist for Ray Charlies and James Brown, Childs is the ideal teacher to show you how to unleash the beat making power of Liquid Rhythm.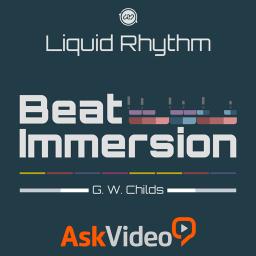 Starting with the basic Molecule Tools and philosophy behind the software, the tutorials advance to submerge viewers in the Beatweaver Synthesizer. If you're a Liquid Rhythm pro that has already dominated the Groove Mover and the Barform and Beatform Maps, the advanced tutorials are for you. Childs delves into the world of Ableton Live and Logic Pro to show you how to build and quickly manipulate complex and exciting arrangements. The final set of tutorials will take you through the infinite possibilities of integrating Liquid Rhythm with Ableton Live's Rack, Max for Live, and Ableton Push.
With a MacProVideo membership, you get access to an entire library of thousands of tutorials ready for streaming or downloading. The tutorial library ranges from producing music and video to designing webpages. It also includes an impressive roster of professional trainers and an active user community. To learn more about MacProVideo and the Beat Immersion Liquid Rhythm tutorial series, click here.